Now accepting new patients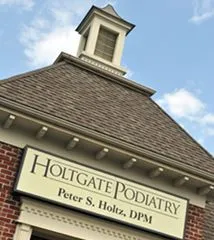 Holtgate Podiatry
717 Market Street, Suite 101
PO Box 415
Lemoyne, PA 17043
Phone: (717) 731-1133
Fax: (717) 635-8385
Office Hours
Monday 8:30 am - 4:30 pm
Tuesday 8:30 am - 4:30 pm
Wednesday 8:30 am - 4:30 pm
Thursday 8:30 am - 4:30 pm
Holtgate Podiatry is now accepting new patients. Please call our office at 717.731.1133 to schedule an appointment.
Insurance
We participate with most major medical insurance plans within our community. Please feel free to call our office to verify your coverage.
Payment Policy
Payment is due at time of service. We conveniently accept major credit and debit cards: Visa and MasterCard. Our staff will be happy to file insurance claims for you.
Maps and Driving Directions